National Student Winners Selected in the ASME Foundation and NASA's "Two for the Crew" Space Design Challenge
Winning Teen Designs to be 3D Printed on the International Space Station by Made In Space, Inc.
Future Engineers, an online platform for student challenges, is proud to share the winners of the "Two for the Crew" Challenge, the sixth in a series of design competitions tasking K-12 students to invent useful items for astronauts living in space. Since reducing mass and volume is of the utmost importance in space exploration, participants were invited to engineer a multifunctional object that combined two items into one for 3D printing by crew members aboard the International Space Station.
The challenge offered two competitive age divisions: Teens (ages 13-19) and Juniors (ages 5-12). Winners from each division were chosen, and for the first time in contest history, the judges announced a tie in the teen division.
The two winners from the Teen Division are The Trillium Tool, designed by Ansel Austin, 15, of Cupertino, CA and the Carabiner Tool Clip, designed by Austin Suder, 18, of Scottsdale, Arizona. The winner of the Junior Division is 2 Pliers + 1 Handle, designed by Jason Qin, 13, of Virginia Beach, Virginia.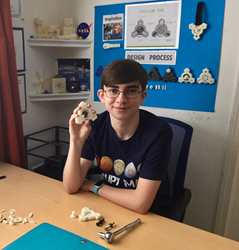 Both winners in the teen division will be awarded the grand prize of having their designs 3D printed on the space station by Made In Space, Inc. and all three winners will be flown to Washington D.C. to learn about the history and future of space exploration while exploring our nation's capital.
The "Two for the Crew" challenge was presented by the American Society of Mechanical Engineers (ASME) Foundation with technical assistance from NASA. Future Engineers hosted the challenge online.
"These students are tackling the same real-world problems NASA's in-space manufacturing team is solving for future human exploration missions. It's exciting to see their young imaginations rising to the challenge," said Jason Crusan, director of the NASA Advanced Exploration Systems division. "Our goal is to engage the public with space exploration and inspire the next generation of engineers and designers. Our 'Two for the Crew' participants are reaching for the stars."
The complete list of Future Engineers' Two for the Crew honorees are: Teen Finalists (Ages 13-19):
Junior Finalists (Ages 5-12):
All 20 semifinalists have won a 3D printing-in-space prize pack and all eight finalists have won a MakerBot Replicator Mini+ 3D Printer donated to the school or educational organization of their choice.
Participating in Future Engineers challenges is free and the site provides links to education resources, teacher-specific tools, and complimentary Autodesk design software for all skill levels. Students and teachers can sign up now to be notified of the next challenge. For more information on this challenge, visit http://www.futureengineers.org/twoforthecrew. Follow Future Engineers on Twitter @k12futuree (#Two4Crew) or like them on Facebook at http://www.facebook.com/K12futureengineers.
About ASME Foundation
The ASME Foundation champions the promise and the power of engineering through nurturing the people, ideas, interactions, and introductions that drive positive change around the world. Visit us at https://www.asmefoundation.org/